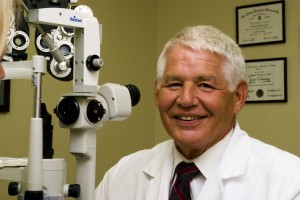 L. Edward Perraut, Jr. M.D. has over 20 years of ophthalmic experience, and has been performing laser vision correction since 1999.  He has performed more than 50,000 LASIK eye surgeries and is ranked in the top 5% of LASIK surgeons in the entire country.
Dr. Perraut has been recognized by VISX as a "Visx Star Surgeon" and he lectures regularly on laser vision correction, especially on the latest technology.  He also teaches other LASIK surgeons how to perform the procedure.  Before going into LASIK, he was one of the premier surgeons for laser treatment of retinal disorders in the Washington, D.C. area.
Dr. Perraut is on the faculty of the University of Virginia as an Associate Professor of Ophthalmology and has served:
As Chief Resident of the Ophthalmology department at the Washington Hospital Center
On the Board for the Washington National Eye Center
As President of the Washington, D.C. Ophthalmological Society
As President of the Ophthalmology section of the Washington, D.C. Medical Society
He has the following Certifications and Affiliations:
Board Certified Ophthalmology
Member, International Society of Refractive Surgeons
Fellow, American Academy of Ophthalmology
Fellow, International College of Surgeons
Hippocrates Galen Medical Society
The American Osler Society.
Past member, Vitreous Society
In addition to the University of Virginia, Dr. Perraut has taught at numerous medical centers including:
Georgetown University Hospital,
George Washington University Hospital,
Washington Hospital Center, and
Children's Hospital National Medical Center.
Dr. Perraut is a graduate of Princeton University and received his medical degree from the University of Maryland Medical School.  He was fellowship-trained in ophthalmic microsurgery at Johns Hopkins hospital.
He is a laser vision correction specialist and has been performing LASIK eye surgery exclusively since 1999.  Prior to opening his own LASIK practices, Dr. Perraut served as Medical Director for TLC Laser Eye Center locations in Rockville, Maryland, and in Reston, Fairfax, and Charlottesville, Virginia. Dr. Perraut was also a principal of Whitten-Perraut Laser Eye Associates.
Experience and knowledge are what sets Dr. Perraut apart and what gives his patients the utmost confidence and sense of security.  As a recipient of LASIK himself, he is able to easily relate to all of his patients and enjoys helping them receive the incredible benefits of LASIK surgery.
Dr. Perraut's hobbies include sailing, fishing, snow skiing, golfing and enjoying large family gatherings on the Chesapeake Bay.